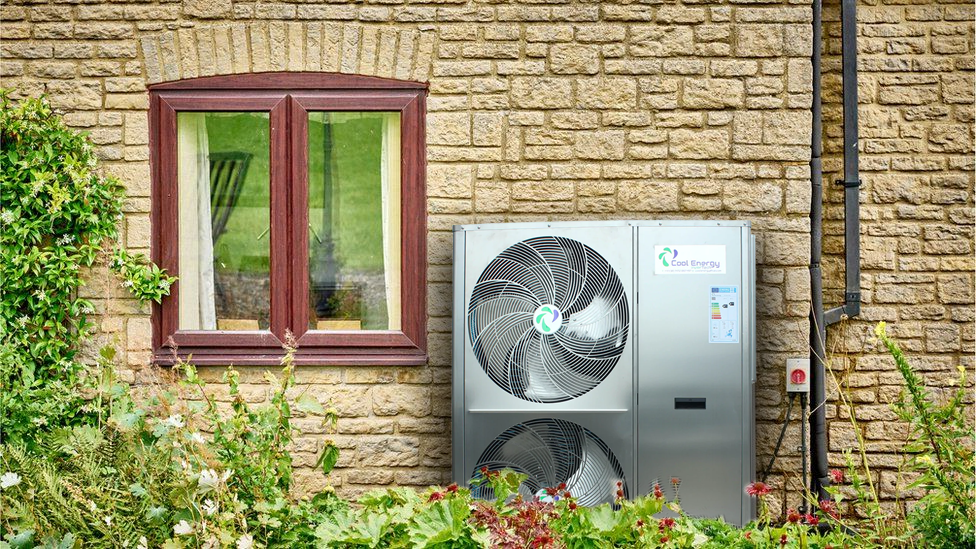 Heat pumps are an efficient, renewable way of replacing gas and oil boilers in most homes – provided you prepare properly – so it makes sense that the government's encouraging homeowners to buy them with subsidies.
And with a gas boiler ban on the horizon, it's worth considering the best alternative on the market – especially while the government allows you to buy it at a discount.
Here's everything you need to know about the cost of different heat pumps, so you can work out which type will be best for your home.
How much does a heat pump cost?
| Property Size | Two Bedroom | Three Bedroom | Four Bedroom | Five Bedroom |
| --- | --- | --- | --- | --- |
| Air source heat pump size | 5kW | 10kW | 13kW | 16kW |
| Air source heat pump cost | £7,000 | £10,000 | £13,000 | £15,000 |
These costs are a general rough idea and don't reflect exactly what you'll pay. Heat pump installations are always priced on a case-by-case basis.
An air source heat pump costs £10,000 for a three-bedroom house, on average.
The Boiler Upgrade Scheme can reduce the cost of an air source heat pump or ground source heat pump by £7,500.
Considering an air source heat pump will now typically save you £4,340 more than a gas boiler over 20 years, the maths is now decisively in favour of air source heat pumps.
To receive free, tailored quotes for a heat pump installation in your home, just fill in this quick form with a few details and our installers will  be in touch.
Heat pump installation cost
The average air source heat pump costs £10,000 to buy and install.
Ground source heat pumps are considerably more expensive than air source models because the installation process is longer, more complicated, and requires more specialised tools.
Whether you're getting an air or ground source heat pump, you may also have to install underfloor heating, better insulation, and/or bigger radiators to take full advantage of your new system's abilities.
You probably won't need to replace all your radiators, but most homes should expect to change one-third of them to ones which are 2.5 larger than the standard size.
This is because a heat pump releases heat at a lower level than a gas boiler, over a longer period of time.
Their slow-release nature is a large part of why they're more energy-efficient, but means you either need large surface areas in your heating equipment, or insulation that holds onto the warmth your heat pump generates.
Three factors that can affect the cost of a heat pump
There are several factors that have a large effect on the cost of a heat pump, including type, size, and efficiency.
Certain brands will also charge more for their products, so make sure you get quotes from at least three different installers so you can compare prices properly.
1. Type
The type of heat pump is the single biggest reason behind its price.
Air-to-air heat pumps are typically five times cheaper than air source heat pumps or water source heat pumps, which are slightly cheaper than high temperature heat pumps – while ground source heat pumps are by far the most expensive.
2. Size
The bigger the heat pump, the higher the cost – but it's better to get the right size heat pump for your home, rather than trying to save money by getting a small model, or making sure you stay warm by purchasing a larger machine.
Go too big, and you'll overpay for a heat pump that runs short cycles which decrease its lifespan.
Go too small, and your model will run constantly as it desperately tries – and fails – to reach your temperature needs, while racking up huge bills.
Get the right size machine, and it'll run in the way it was designed.
3. Efficiency
Heat pump efficiency is an important cost factor too, as a more efficient machine will naturally cost more.
Air and ground source heat pumps usually have an efficiency rating of 300%, though they can reach 400% or even 500% – which is up to five times higher than gas boilers.
Air-to-air and water source heat pumps also usually exist in this range, while high temperature heat pumps are less efficient, at around 250%.
Heat pump running costs
The average air source heat pump running costs for a three-bedroom household will typically come to around £1,048 per year, though this can vary significantly, depending on where you live in the UK.
| Heating Method | Efficiency(%) | Annual energy use (kWh) | Cost (p/kWh) | Annual bill |
| --- | --- | --- | --- | --- |
| Gas Boiler | 95 | 11,500 | 6.89 | £792 |
| Heat Pump | 300 | 3,833 | 27.35 | £1,048 |
| Oil Boiler | 92 | 11,875 | 11.14 | £1,337 |
| Electric Boiler | 100 | 10,925 | 27.35 | £1,641 |
While the temperature of the ground stays stable throughout the year, air temperature fluctuates – which means your air source heat pump's efficiency does as well.
You'll currently pay around £800 per year to run a gas boiler in an average three-bedroom home, which is slightly cheaper than a typical heat pump – but that's likely to change.
Gas prices are likely to continue rising as the UK moves away from fossil fuels, and the cost of electricity is set to fall in the near future, when the government removes green levies that artificially raise its price.
If you live in or towards the south of the country, you may well already pay less to run a heat pump than a gas boiler, as it's warmer than the rest of the UK.
Your running costs may also be lower if your machine has a higher efficiency rating than 300%, or if your insulation is better than average.
Are there any grants for heat pumps?
There are several government grants for heat pumps in the UK that you should absolutely use.
The Boiler Upgrade Scheme allows any homeowner in England and Wales to get £7,500 off the cost of an air, ground, or water source heat pump.
Low-income households and people on certain benefits in England, Scotland, and Wales may be able to use the ECO4 scheme to get a heat pump.
If you live in Scotland, Warmer Homes Scotland and the Home Energy Scotland Loan will both offer heat pumps to certain households, while some people in Wales can access the government's Nest scheme. And don't forget to check out our guide to air source heat pumps in Scotland.
You can also contact your local authority and ask if it's received any funding from the Home Upgrade Grant. If it has, and your home isn't on the gas grid, you may be eligible for a heat pump grant.
For more information, check out our full guide to heat pump grants.
Heat pump service costs
If you carry out regular heat pump maintenance checks, your machine should provide you with warmth and hot water for at least 20 years.
You should have the heat pump serviced by a professional every one or two years (Varies depending on warranty terms and conditions), to make sure everything is working at peak efficiency.
This service will cost around £150, so check with your installer or the manufacturer if you can get a cheaper regular maintenance included in your purchase.
And before the heat pump is installed, ask your installer to write down any maintenance checks you should carry out on a regular basis.
This list will include simple tasks like sweeping any leaves, dust, or snow from the heat pump's fans, and cleaning the filter.
You can save you money in the long run by keeping your heat pump functioning efficiently – and if you can take care of these jobs yourself, it's free.
As well as carrying out maintenance checks, you can also protect your heat pump system by getting a heat pump cover for the outside unit, which can guard it against extreme weather conditions and sea spray.
Next steps
If heat pumps seem like an affordable choice for you, contact us today for a free quote, or for more informaiton
Email: sales@coolenergyshop.com
Tel: 01472 867497